The Southern Cultural Heritage Foundation is a nonprofit organization dedicated to preserving the diverse cultural heritage of Vicksburg, Mississippi, the Mississippi Delta, and the American South. The Foundation works to achieve its goals by creating and hosting cultural activities at the Southern Cultural Heritage Complex.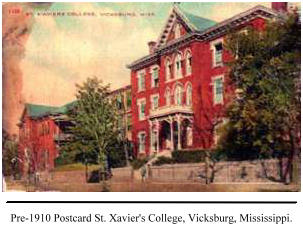 Our upcoming activities suit many interests, and our past activities are a testimony of the rich cultural heritage of Vicksburg, Mississippi.
March 2013 printable newsletter (456 KB Adobe Reader file)

Facebook Events Page (must sign into Facebook to view)

Tickets are now on sale for the much anticipated 5th Annual Chocolate Affair on Thursday, May 2 at 7:00pm in the historic SCH Auditorium. Tickets are available in advance only and are $25 per person for SCHF members and $30 for nonmembers. Tickets are available at the SCHF Business Office, Paper Plus, charge by phone at 601.631.2997, and online at chocolateaffair2013.eventbrite.com. A group purchase of eight may reserve a table by calling 601.631.2997.

The SCHF is proud to welcome the original art of Thomas "Tom" Cochran in the Academy Building of the Southern Cultural Heritage Center. The exhibit is on display until March 28 during regular business hours. Admission is free.

Chris Meister discusses his latest book, "James Riely Gordon: His Courthouses and Other Public Architecture" Tuesday, March 19th at 5:30pm at the Southern Cultural Heritage Convent.

24th Annual Over the River Run, Saturday, October 13, 2012 at 8am.
Order prints from among 851 race photos here. All proceeds go to the SCHF.

Hobbs Freeman Arts and Nature Celebration and Festival, Saturday, November 3, 2012
What a day!! Don't know where to even start!! Attendees, speakers, bands, performers, volunteers... What a fabulous festival!!! Thank you!!!!!!!! The Hobbs Freeman arts and nature Festival was a HUGE success!!

Vicksburg/Warren County Chamber Leadership Team picks the SCHF.
One of the Vicksburg/Warren County Chamber of Commerce Leadership Teams choose a beautification project for the SCHF as their community project for the 2011-2012 year. The project involves replacing the handicap ramp in the Cherry Street courtyard area and general clearing and cleaning the area. They greatly appreciate your help in making this project a success! Click HERE to find out more.

The SCHF needs your help!!!
As with old buildings/structures, there is always something that needs repairing. That being said, the SCHF is in desperate need of your help!!! Because of the age of the water pipes underground of the cultural center, there have been several leaks discovered. The repair cost is estimated at $13,000. This was a very much unexpected problem.
If you would like to assist financially with this issue, checks need to made payable to the SCHF (write "Water Leak" in the memo of your check) and send to 1302 Adams Street, Vicksburg, MS 39180. Your donation is fully tax deductible.
We so appreciate your support!!!!!!

SCH Auditorium Repair & Stabilization is COMPLETE!
This project is made possible by a grant from the Mississippi Department of Archives & History of $150,000 with required matching funds of $38,000.
We have raised $20,797 toward the $38,000 needed for the matching funds. Because we have yet to raise the remaining funds, we are forced to use our general fund.
We are STILL accepting contributions toward this project. REMEMBER: contributions of $50/or more will be listed on a plaque that will be permanently located in the foyer of the Historic Auditorium
Check out photos of the progress...
Checks need to made out to the SCHF (write MDAH grant in the memo of your check) and send to 1302 Adams Street, Vicksburg, MS 39180. Your donation is tax deductible.

WLBT article, Going back in time with the Sisters of Mercy, February 20, 2009.

Richard McComas, SCHF guitar instructor, has some openings for guitar lessons. If you are interested or would like more information, please call 601-529-6505 or email mccomasmusic@hotmail.com.

A memorial fund in honor of Mother Clementine Phelan and the Sisters of Mercy has been established by Mrs. Edna Henry Hosemann, Mrs. Elizabeth Henry Nelson and Mr. George Nelson, and Pat and Lance Dichter in honor of their aunt. Press release.

Looking for that unique gift for that special someone? Consider the special Cultural Center Crosses created by Misty Clendenin. All proceeds go to support the buildings and all programs at the Southern Cultural Heritage Center. The crosses are only $10 each, plus tax.

The SCHF is an ideal place to hold weddings, receptions, performances, reunions, lectures, and business meetings. Space available for rent include the classrooms in the 1930s Academy Building and the 1880s Auditorium featuring a stage, 24-foot ceilings, and hardwood floors.

Check out the musical montage of past programs and events held here at the Center, The Southern Cultural Experience at the bottom of this page.
Important Community links...
Vicksburg/Warren Chamber of Commerce
Vicksburg Convention & Visitors Bureau
Vicksburg Main Street
Vicksburg Theatre Guild and Gold in the Hills
---