Sunday, April 3 from 5 - 7 p.m.
Sunday, April 17 from 5 - 7 p.m.
The SCHF offers ballroom dance classes twice monthly. James Frechette, owner of the Applause Dance Factory in Ridgeland, MS, will teach classes in ballroom, latin, country/western, and swing dance.
Individuals and couples are welcome. The fee is $20 per person for each 2 hour session. For more information, please call the SCHF office at 601-631-2997.
---
The Southern Book Club meets on the third Wednesday of each month. There is no fee and it is open to the public. New members are welcome.
This month:
In the Red Zone
by Steven Vincent
Wednesday, April 20
7 p.m.
Call the SCHF office for meeting location.
---

River Kids End-of-Year Performance and Exhibit — Thursday, May 5

Vicksburg Chamber Choir Concert — Saturday, May 7

Mississippi Poetry Society Reading and Open Mic — Friday, May 20
The SCHF is creating a monthly cultural lecture series. Each month will focus on a different culture that is present in our community with an emphasis in our diverse history, customs, music, art, and cuisine.
If you are interested in learning more about a certain culture, or have suggestions on speakers or representatives from different cultures, please contact the SCHF office at 601-631-2997. We would love to hear from you as we begin this exciting new program!
---
A special thanks to all of our volunteer tour guides who helped make Spring 2005 Pilgrimage a success! We've had more tourists visit and tour the Cobb House this season than in the previous three tour seasons! Thank you!
Also, a special thanks to the Green Hills Garden Club who in addition to planting and maintaining the inner courtyard flower beds for the past year, has purchased and planted a 16-foot Live Oak Tree in the lower courtyard on the corner of Cherry and Crawford Streets.<![if !mso]>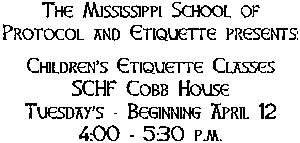 The SCHF is pleased to bring the Mississippi School of Protocol and Etiquette to Vicksburg. During this program, children will learn etiquette and leadership skills while in a historic setting with topics including: introductions, posture, table etiquette, table manners, voice levels, telephone manners, and conversation skills.
The classes are open to children ages 7 to 12. Cost of the program is $179.00. For more information or to register contact the MS School of Protocol & Etiquette at 601-502-0973 or 800-939-8963.
---
Andrew Miller and Kathryn Lord of Amberstar Glass will teach a stained glass workshop at the SCHF on April 22 and 23. Cost of the two session workshop is $65.00 for SCHF members and $75.00 for nonmembers. Cost includes all materials. Space is limited, so register today!
At the Friday session, students will learn about the history and cultural significance of stained glass. They will examine different glass making methods, types of glass, restoration of stained glass, safety considerations, and participate in a hands-on demonstration of cutting glass, copper foil methods, soldering, and hot paints.
During Saturday's session, students will construct a simple fused glass project, take a studio tour, and build a copper foil project.
Miller, who is employed with the U.S. Army Engineer Research and Development Center, has been working with stained glass since 1994. Lord, a psychotherapist, has been working with Amberstar Glass since 1998. Call today to register!
---

In 2004, the SCHF received a $10,000 grant from the Sisters of Mercy to repair and update the Sisters of Mercy archives room at SCHF. This room houses records, pictures, and other items that document their work in and contributions to Vicksburg. The grant provided funds to make repairs to the room as well as update storage and archival equipment.
With the funds from this grant, repairs have been made to the walls and ceiling of the archive room, climate control added, and plans are in the works to add special UV protection to the windows. The work will culminate with the addition of a computer, scanner, and other equipment to facilitate research.
The repairs and equipment will help preserve the Sisters of Mercy legacy for future generations. We would like to offer special thanks to SCHF Board Member Glenda LaGarde, Sister Theresa Finnegan, and Sister Fatima Starks for their hard work in making the repairs to the archives room a reality!