---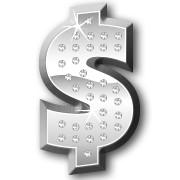 SCHF will host a 5 week Financial Workshop on Tuesdays from 5:30 to 6:30 beginning April 22.
No matter what your age, your financial situation or your goals, this workshop will help show you the power of investing.
The workshop will teach you how to increase investment income while reducing taxes on those investments. Learn everything from the stock market to other forms of ownership and loanership investments.
The focus will be on you and your goals, whether saving for your children's education or planning for your own retirement. This workshop will cover everything.
The class will be lead by experienced Edward Jones financial advisor, Wayne Pratt.
The class is open to anyone interested in learning more about finance from beginners to longtime investors.
Cost of the course is $40 for SCHF members and $45 for nonmembers and includes a workbook for reference.
The ever changing world of investing offers plenty for everyone to learn.
Space is limited, so please call to make reservations by April 16! For more information or for reservations, please call the SCHF office at 601-631-2997 or email the center at info@southernculture.org.
---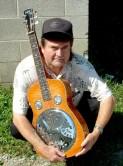 The Southern Cultural Heritage Foundation presents a guitar workshop and concert by Nashville guitar artist, Johnny Bellar. The workshop will be held in the SCHF Academy Building on Friday, May 2nd from 10 a.m. - 3:00 pm. and the special concert performance will be held in the SCHF Auditorium also on Friday, May 2nd at 7:00 p.m. The concert is free and open to the public. The workshop registration fee is $150.

Johnny Bellar is a virtuoso player of both the resophonic guitar (an acoustic instrument played with a metal slide invented in the 1920's and popularly known as the Dobro) and the lap steel guitar (an electric adaptation of the resophonic). He is a regular on the Nashville Now television program and on the Grand Ole Opry. Born and raised outside of Nashville, Johnny was introduced to music at an early age. He began playing the guitar at age 14 and the resophonic a year later. After graduation from high school, Johnny began playing with the legendary Stoneman Family in 1974 and continued touring with them until 1984. While performing with the Stonemans, Johnny appeared on such shows as Hee Haw, the Ralph Emery Show and the Tommy Hunter Show. After leaving the Stoneman family, Johnny performed for three years with the bluegrass gospel group, the New Tradition. In 1987 Johnny decided to concentrate on his own music and worked his way into the Nashville studio scene. Since then, he has performed at Opryland USA and with Wilma Lee Cooper on the Grand Ole Opry and throughout the country. He currently has 10 solo albums of original music displaying a great versatility and musical styles.
Many are simply mesmerized watching his hands as they move over the strings. The sounds he is able to coax from the Dobro testify to the genius of his talent. Whether he's performing in the dimly lit Bluebird Café in Nashville, or in the glaring sun at an outdoor folk music festival, he's a stand out!
Even with a bustling performance schedule, Johnny continues to compose sophisticated and fascinating melodies for the Dobro. A true genius, a remarkable innovator and a legend in the making.
For more information about this exciting performance and workshop, please call the SCHF office at 601-631-2997 or email info@southernculture.org.
---
Tuesday, May 6th, 5:30-7pm
Digital camera 'how to' class

In this two-hour class session, students will bring whatever digital camera they have to learn how to take better pictures. We will discuss cameras, ideas, techniques, and then photograph around the SCHC grounds. After shooting, we will return to the classroom to discuss what was shot and each student will get to print a 4x6 of one of their images.
The workshop's purpose is to help each student get more comfortable with their camera and to learn about photographic and ascetic basics. All ages are encouraged to attend with any questions about digital photography. Each person needs to have a digital camera and be sure to have fresh/freshly-charged batteries. $30 per person for SCHF members and $35 for nonmembers. Reservations required.
Thursday, May 8th, 5:30-7pm
Hand-coloring Photographs
In this class session, the instructor will share techniques for tinting photographs. Calnan will bring a hand-printed, black and white art print from her own collection for each student to work on and take as a souvenir. Students are encouraged to bring a photo (black and white work best) that they would like to add color to (any finish will suffice).

The class be working with Marshall Oils, watercolor pencils and pastels. Participants will discuss and try different approaches to tinting and toning. Techniques for sealing and preserving tinted photos will also be discussed. $30 per person for SCHF members and $35 for nonmembers. Reservations required.
Instructor, Camilla Calnan, graduated in 1997 as salutatorian of St. Aloysius High School. She attended the University of Southern Mississippi for 2 ½ years, studying Literature and Photography, and during which Calnan worked at the Vicksburg Post as a photojournalism intern and later as a staff photographer. She then transferred to the University of North Carolina at Asheville and graduated through an independent degree program of Art Photography, Literature, and Photojournalism in May of 2002.
In Asheville, Cami has been building her photography business shooting weddings and portraits as well as selling fine art prints and teaching photographic workshops to share her 14 years of photo experience. Calnan works with images taken in Vicksburg and Asheville, exclusively. She sells work in Vicksburg at Art and Soul of the South and at the Cinnamon Tree, both on Washington Street.
www.camiphoto.com
camiphoto@charter.net
(828) 242-2308
---

The 2008 Traveling Exhibit is a juried art show comprised of those chosen selections from artists across the state and the region.
The exhibit will open at the Cultural Center, May 13. It will be on display through the middle of June.
The Traveling Exhibit is open to the public and free of charge. The exhibit will be available for viewing during SCHF operating hours from 8:00 a.m. to 12:00 pm and 1:00 pm to 5:00 p.m. Monday through Friday or by appointment. Please use the courtyard entrance from Adams Street.
For more information, please call the SCHF office at 601-631-2997 or stop by at 1302 Adams Street. Student groups are encouraged to attend. Special group viewings can be arranged by reservation.
---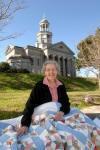 Martha Skelton: Master Quilter of Mississippi signing will be held at the SCHF Auditorium, Thursday, June 12 from 4 pm to 6 pm.
The book is an illustrated biography of one of the state's most beloved artisans and teachers. Like all art forms, quilting has its "masters," and Vicksburg, Mississippi's Martha Butcher Skelton is among them. Noted quilt scholar Mary Elizabeth Johnson chronicles Martha Skelton's life and her development into one of America's foremost quilt artists.
Born in West Virginia, Martha Skelton was reared in Oklahoma. Her interest in quilting began when, as a girl, she watched her mother and aunts make quilts and enjoy needlework. After graduating college and marrying, she moved to Vicksburg and served as a school librarian for a number of years while raising a family. During this time, her quilting began to develop into an art.
Having completed more than two hundred quilts (over ninety of which are photographed here in full color), Skelton has been recognized as a master quilter and teacher of the craft. Twice she was selected to participate in the Smithsonian Institution's Folklife Festival. She was instrumental in establishing the quilting program for the Mississippi State Fair and has taught in almost every Mississippi county, as well as in numerous other states. Two of her quilts are a part of the Museum of the American Quilter's Society's permanent collection, and her quilts are also included in the Mountain Mist quilt collection and the Mississippi Department of Archives and History collection.
Mary Elizabeth Johnson is the author of numerous books on quilting. She lives and works in Montgomery, Alabama.
For more information, contact the Southern Culture Heritage Foundation at 601-631-2997.
---
An Evening with Nevada Barr

New York Times
bestselling author of the Anna Pigeon series

The Southern Cultural Heritage Foundation presents an "Evening with Nevada Barr." The New York Times bestselling author will present a lecture on her books, life and art at the SCHF Auditorium on Tuesday, July 15th 7:00 p.m. The event is free and open to the public. A book signing will follow the program.
Nevada Barr first introduced her wildly popular Park Ranger Anna Pigeon fifteen years ago in Track of the Cat, a remarkable debut that earned Barr a host of honors, including an Agatha Award. Pigeon was an instant hit with mystery and thriller fans of every stripe and a beloved series was born. The breathtaking national park setting—in essence, another character—was a fresh, fascinating bonus, and fans continue to eagerly await each foray into a national park.
Evocative and haunting, Barr's new book, WINTER STUDY, offers a glimpse of a world that few see, "the splendid isolation" of an unspoiled refuge in its magnificence as well as its brutality. Brimming with edge-of-your-seat suspense, Barr's story makes a strong but subtle case for the much maligned wolf population as it spins an utterly original tale about evil, weakness, and human predators. But the ever-precise Barr gets the science right, too, with help from Rolf Peterson, the real-life scientist behind the island's wolf/moose research study and who contributes an intelligent, moving perspective in his foreword. The result is a riveting story by a writer with a gift for entertaining us as she expertly illuminates the twin conflicts of man vs. nature and man vs. man.
Nevada Barr is the award-winning author of thirteen previous Anna Pigeon mysteries, including the New York Times bestselling Hard Truth and High Country. Her debut novel Track of the Cat (1993) received both the Anthony Award for Best First Novel from the Crime Writers Association as well as the Agatha Award for Best First Novel. A few years later, Firestorm (1996) was honored with France's Prix du Roman D'Aventure as well as another Agatha Award nomination. Barr was also recognized by Books for a Better Life and Nautilus for her spiritual memoir, Seeking Enlightenment Hat by Hat.
The Nevada-born daughter of two professional pilots had started out as a successful stage actress in Manhattan, but, thanks to a former husband involved with the National Park Service, fell in love with the outdoors. With a newfound passion for conservation and wildlife, she launched a new career as a ranger landing stints in places like Texas' Guadalupe Mountains National Park and most recently Natchez Trace Parkway in Mississippi. Now retired from service, she's a full time novelist. She lives in New Orleans.
Make plans now, seating is limited. For more information about this exciting event, please call the SCHF office at 601-631-2997 or email info@southernculture.org.