---
Cancelled. Will be rescheduled.
The Southern Cultural Heritage Foundation presents a cooking workshop led by Kristin Gluck of …By Request, Unique Pick-up Foods. The class, Spice Up Valentine's Day, will be held in the SCHF Academy Building on Tuesday, February 12th from 10:00 a.m. to 11:30 a.m. and again in the evening from 5:30 p.m. to 7:00 p.m.
Kristin Gluck enjoys creating foods with interesting flavor combinations using fresh and healthy ingredients. Gluck will be offering seasonal cooking workshops over the course of the year at SCHF.
Reservations are required for the class. The fee for the class is $30 for SCHF members and $35 for non-members. Space is limited, so call today!
To register or for more information, please call the SCHF office at 601-631-2997.
Be Mine Menu
Soup with Sour Cream Heart
Scallops wrapped in Bacon
Grilled Radicchio and Flower Petal Salad
Lemon Rice and Rosemary Asparagus
Bundles of Kisses on Cream
A menu sure to capture his heart and he will never know how easy it was to prepare!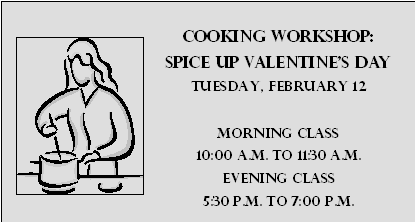 ---
The Southern Cultural Heritage Foundation is pleased to partner with Pi Alpha Kappa Sorority to present a special Valentines Concert and Luncheon. To Vicksburg, with Love, a musical celebration and luncheon will include entertainment ranging from Elvis, to Gospel, to Broadway.
The entertainment will be provided by Daniel and Julie Lee of Hattiesburg, Mississippi at noon on Tuesday, February 12 in the SCHF Auditorium.
Daniel and Julie Lee have an extensive music background and musical training. They love singing all styles of music, and look forward to singing for the wonderful people in Vicksburg.
The $10 fee for the performance may be paid at the door and includes lunch. Reservations are required.
For more information, or for reservations, please call the SCHF office at 601-631-2997.
Pi Alpha Kappa began in 1948 in Fort Worth, Texas. A group of women banded together to form a society to promote growth and self-improvement throughout their lives. PAK chapters were established throughout the United States, bringing cultural and educational programs to their members.
The Vicksburg Chapter of PAK is pleased to offer this performance and luncheon for the community to enjoy.