---
The Southern Cultural Heritage Foundation (SCHF), in cooperation with Mississippi Humanities Council (MHC), will explore America's roots music as it hosts the local showing of New Harmonies: Celebrating American Roots Music, a Smithsonian Institution traveling exhibition. New Harmonies will be on view at SCHF beginning June 28 and continuing through August 9, Monday - Saturday from 9 a.m. - 4 p.m. daily.
When you stop and listen, you quickly realize that music is all around us -- at a local festival, at a dance hall on a Saturday night, or on your radio or your MP3 player. Whether you're hearing blues, country western, folk, or gospel, American roots music reveals the American story – people reshaping themselves in a new and changing world. As Americans from a variety of heritages shared cultural influences, musicians found new ways to play unique sounds learned from new neighbors on traditional instruments. The inevitable intermingling of musical influences created exciting new sounds – new American music.
SCHF and the surrounding community has been expressly chosen by the Mississippi Humanities Council to host New Harmonies: Celebrating American Roots Music as part of the Museum on Main Street project.
Through a selection of photographs, recordings, instruments, lyrics and artist profiles, New Harmonies: Celebrating American Roots Music will explore the distinct cultural identities of American roots music forms. The exhibition will examine the progression of American roots music, as rich and eclectic as our country itself. Other musical genres profiled include zydeco, tejano, bluegrass and klezmer.
"We are very pleased to be able to bring New Harmonies to our area," said Bess Averett, SCHF executive director. "It allows us the opportunity to explore this fascinating aspect of our own region's musical history and we hope that it will inspire many to become even more involved in the cultural life of our community."
"Allowing all of our state's residents to have access to the cultural resources of our nation's premiere museum is a priority of the Mississippi Humanities Council," said MHC's director, Barbara Carpenter. "With this special tour, we are pleased to be working with SCHF and Vicksburg to help develop local exhibitions and public programs to complement the Smithsonian exhibition." Such free events include concerts, performances, an opening night festival and lectures.
---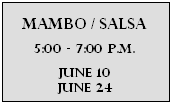 The SCHF offers monthly ballroom dance classes. James Frechette, owner of Applause Dance Factory in Ridgeland, teaches classes in ballroom, Latin, swing and many other styles of dance.
Class will meet Sundays, June 10 and 24 from 5 - 7 p.m. in the academy building.
Both individuals and couples are welcomed. The fee is $20 per person for each two hour session. For more information, please call the SCHF office at 601-631-2997.
---
The Southern Book Club meets the third Wednesday of each month.
There is no fee to attend and it is open to the public.
The group focuses on Southern authors and subjects, but is open to any good read. Book and author suggestions are welcomed.
For June, the Southern Book Club will discuss Special Topics in Calamity Physics by Marisha Pessl at 7:00 p.m. on Wednesday, June 20.
Please call the SCHF office for meeting location or for more information.
---