---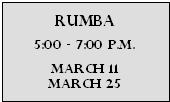 The SCHF offers monthly ballroom dance classes. James Frechette, owner of Applause Dance Factory in Ridgeland, teaches classes in ballroom, Latin, swing and many other styles of dance.
Class will meet Sundays, March 11 and 25 from 5 - 7 p.m. in the academy building.
Both individuals and couples are welcomed. The fee is $20 per person for each two hour session. For more information, please call the SCHF office at 601-631-2997.
---

Historic Vicksburg will be on display during the 2007 Spring Pilgrimage set for March 17 through April 7. SCHF's Cobb House will be among the many historic properties open for tour.
Pilgrimage will kick off with an opening concert and reception on Thursday, March 15. The performance will feature Johnny Crocker and refreshments will be provided by each of the tour sites.
Everyone is invited to attend and see what Vicksburg Pilgrimage offers not only to tourists, but also to our own community. Cost for the concert is $20 in advance or $25 at the door and all proceeds benefit future pilgrimage marketing and promotions.
The SCHF is pleased to again include its recently restored Cobb House to the list of attractions offered for tour. The oldest building of the Center, the Greek Revival Cobb House was built circa 1830. It will be open for tours on Mondays, Wednesdays, and Fridays from 9:30 a.m. to 12:30 p.m.
Tickets for Pilgrimage are $6.00 per person for each tour site and may be purchased at the homes on tour or at the Welcome Center.
SCHF needs volunteer tour guides for pilgrimage. If you are interested in leading tours or participating in Pilgrimage, please contact the SCHF office at 601-631-2997.
---
JOHNNY CROCKER
To kick off Spring Pilgrimage in Vicksburg, MS
Southern Culture Heritage Center Auditorium
Thursday, March 15, 2007
6 PM — 8 PM
Tickets $20.00/person sold at Paper Plus (1318 Wash. St.)
Or $25.00 per person (at the door).
Food & Beverages (Beer and Wine) provided by
The Vicksburg Bed and Breakfast Association and
Members of Vicksburg Heritage, Inc.
---
KidzArt of Madison, Mississippi is coming to Vicksburg! SCHF is proud to welcome Laurie Conway and Debbie Martin of KidzArt to teach a one day workshop during Spring Break.
KidzArt is a unique drawing-based education program designed to teach children valuable skills and explore creativity.
By using the simple drawing method, students will create original works of art, complimented with artistic projects and exposure to many mediums, while enhancing their creative self-expression in all areas.
KidzArt camps and workshops are designed for both experienced and novice artists, allowing students to take part in a colorful world of drawing, painting, creative art projects, learning, and, most of all, having fun!
The one day Spring Zing workshop will be an introduction to the KidzArt method. It will be held in the SCHF academy building on Thursday, March 15 from 1:00 to 4:00 p.m. The program is open to any student in kindergarten through fifth grade.
Space is limited and registration is required. Please call 601-607-6019 for more details or to register.
Registration and more details are also available online at www.KidzArtMs.com or you can email KidzArt at Info@KidzArtMs.com.
---
The Southern Book Club meets the third Wednesday of each month. There is no fee to attend and it is open to the public. The group focuses on Southern authors and subjects, but is open to any good read. Book and author suggestions are welcomed.
For March, the Southern Book Club will discuss Last of the Red Hot Poppas by Jason Berry at 7:00 p.m. on Wednesday, March 28. (Note the temporary date change to the 4th Wednesday in March.)
Please call the SCHF office for more information.
---
SCHF will offer a mini Permaculture weekend workshop in April for those interested but unable to commit to the 4 week course held in January. The workshop will serve as an introduction to the Permaculture lifestyle.
Permaculture is the conscious design and maintenance of cultivated ecosystems which have the diversity, stability and resilience of natural ecosystems. It is the harmonious integration of landscape, people and appropriate technologies providing goods, shelter, energy and other needs in a sustainable way.
Rebecca Habeeb Chabot, a Vicksburg native, and her husband Akia Chabot have recently settled in Vicksburg from Australia. They will lead the workshop which shares the benefits of the Permaculture lifestyle.
A few of the topics covered in the workshop include:
Permaculture origins and principles

Ecological gardening design

Water harvesting

Sheet mulching

Green building design and construction

Energy efficiency and passive solar principles
The workshop will be April 28 and 29. The $150 fee ($100 for students) will cover all activities, materials, and lunch on Saturday.
For more information or to register, please call Rebecca or Akia Chabot at 601-636-4302.