---
The Southern Cultural Heritage Foundation presents a cooking workshop led by Kristin Gluck. The class, The Taste of Spring, will be held in the SCHF Academy Building on Thursday, March 20th from 5:30 p.m. - 7:00 p.m.
Kristin Gluck enjoys creating foods with interesting flavor combinations using fresh and healthy ingredients. On this first day of spring, she will prepare delectable recipes perfect for the season. Gluck will be offering seasonal cooking workshops over the course of the year at SCHF.
Space is limited and reservations are required for the class. The fee for the class is $30 for SCHF members and $35 for non-members.
To register or for more information, please call the SCHF office at 601-631-2997 or email info@southernculture.org.
---

Cancelled. SCHF will host a course on sustainable living principles and techniques presented by Green Footprints LLC. Permaculture is the conscious design and maintenance of cultivated ecosystems which have the diversity, stability and resilience of natural ecosystems. It is the harmonious integration of landscape, people and appropriate technologies, providing good food, shelter, energy and other needs in a sustainable way. Permaculture teaches participants how to create their own personal "Garden of Eden."

Dr. Rebecca Habeeb Chabot, Vicksburg native, and her husband Akia Chabot have settled in Vicksburg from Australia. They are offering courses and workshops as part of their permaculture design consultancy. The upcoming course will be held over the 5 weekends beginning Saturday the 5th of April and finishing Sun the 4th of May. The course will be held at the SCHF and the permaculture demonstration site the Chabot's are creating at their suburban property.
The courses include lectures and hands-on activities, field trips, guest lecturers, a book of readings, and after course support. This will be the third Permaculture design course ever to be held in MS. Cost $600.
For more information please visit the Green Footprints website at gfootprints.com or contact Akia at 601.636.4302 or email at akia@gfootprints.com.
---
Tuesday, May 6th,5:30-7pm
Digital camera 'how to' class

In this two-hour class session, students will bring whatever digital camera they have to learn how to take better pictures. We will discuss cameras, ideas, techniques, and then photograph around the SCHC grounds. After shooting, we will return to the classroom to discuss what was shot and each student will get to print a 4x6 of one of their images.
The workshop's purpose is to help each student get more comfortable with their camera and to learn about photographic and ascetic basics. All ages are encouraged to attend with any questions about digital photography. Each person needs to have a digital camera and be sure to have fresh/freshly-charged batteries. $30 per person for SCHF members and $35 for nonmembers.
Thursday, May 8th, 5:30-7pm
Hand-coloring Photographs

In this class session, the instructor will share techniques for tinting photographs. Calnan will bring a hand-printed, black and white art print from her own collection for each student to work on and take as a souvenir. Students are encouraged to bring a photo (black and white work best) that they would like to add color to (any finish will suffice).
The class be working with Marshall Oils, watercolor pencils and pastels. Participants will discuss and try different approaches to tinting and toning. Techniques for sealing and preserving tinted photos will also be discussed. $30 per person for SCHF members and $35 for nonmembers.
Instructor, Camilla Calnan, graduated in 1997 as salutatorian of St. Aloysius High School. She attended the University of Southern Mississippi for 2 ½ years, studying Literature and Photography, and during which Calnan worked at the Vicksburg Post as a photojournalism intern and later as a staff photographer. She then transferred to the University of North Carolina at Asheville and graduated through an independent degree program of Art Photography, Literature, and Photojournalism in May of 2002.
In Asheville, Cami has been building her photography business shooting weddings and portraits as well as selling fine art prints and teaching photographic workshops to share her 14 years of photo experience. Calnan works with images taken in Vicksburg and Asheville, exclusively. She sells work in Vicksburg at Art and Soul of the South and at the Cinnamon Tree, both on Washington Street.
www.camiphoto.com
camiphoto@charter.net
(828) 242-2308
---

The 2008 Traveling Exhibit is a juried art show comprised of those chosen selections from artists across the state and the region.
The exhibit will open at the Cultural Center, May 13. It will be on display through the middle of June.
The Traveling Exhibit is open to the public and free of charge. The exhibit will be available for viewing during SCHF operating hours from 8:00 a.m. to 12:00 pm and 1:00 pm to 5:00 p.m. Monday through Friday or by appointment. Please use the courtyard entrance from Adams Street.
For more information, please call the SCHF office at 601-631-2997 or stop by at 1302 Adams Street. Student groups are encouraged to attend. Special group viewings can be arranged by reservation.
---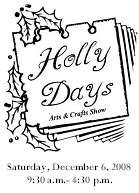 The Southern Cultural Heritage Foundation presents the inaugural "Holly Days" Arts and Crafts show. The Show will be held Saturday, December 6th. The hours of the show will be 9:30am-4:30pm. "Holly Days" will feature a variety of vendors from the city and state to showcase their talents. The show will precede Vicksburg Main Street's Annual Christmas Parade at 5pm.
"We welcome the SCHF's Holly Days Arts and Crafts Show, as it will enhance Vicksburg's Annual Christmas Parade of Lights ", said Rosalie Theobald, Main Street Director, "The Show will be an extra opportunity to shop downtown, where truly everything is waiting for you."
Vendor applications are now being accepted. Space is limited and acceptance to the Show will be based on the images of the crafts/art submitted with an application.
Exhibit space is $40 for SCHF members and $50 for nonmembers. To be considered, vendor applications must be turned in no later than September 1st. Vendors will be notified no later than September 10th with an acceptance letter. Contact the SCHF office at 601-631-2997 for an application or for more information. An application is enclosed with this newsletter.