---
Ballroom Dance
presented by James Frechette
The SCHF offers monthly ballroom dance classes. James Frechette, owner of Applause Dance Factory in Ridgeland, teaches classes in ballroom, Latin, swing and many other styles of dance. This month the dance will be the Mambo.
Class will meet Sundays, May 3 and 17 from 5 - 7 p.m. in the academy building.
Both individuals and couples are welcomed. The fee is $20 per person for each two hour session. For more information, please call the SCHF office at 601-631-2997.
---
This educational lecture will enlighten you on the many gardening dos and don'ts from planting, pruning, plant selection and care. The top ten mistakes in gardening will be covered with a question and answer segment.
Rob Mendrop is from Vicksburg, and has over 30 years of landscaping experience. He owns and operates Dreamscape Designs.
For more information, please contact the SCHF office at 631-2997 or email info@southernculture.org.
---
Join us Tuesday, May 5 from 3:45-5 p.m. to create a fun and whimsical maraca and a beautiful weave design in celebration of the Mexican traditional holiday, Cinco de Mayo. The workshop is a great way for kids to learn about the holiday in a fun and creative way. The workshop will also include a guest storyteller and special Mexican treats.
$10/per child (ages 5 and up). Space is limited. For more information or for reservations, please call the SCHF office at 601-631-2997 or email info@southernculture.org.
---
The Southern Cultural Heritage Foundation proudly presents A Chocolate Affair on Thursday, May 7th at 7:00 pm in the SCHF Auditorium. This elegant evening will include a plethora of chocolate desserts, drinks and entertainment by local piano extraordinaire, Jim Robinson, and the sweet vocal sounds of Maria Adona. Tickets are available in advance only and are $15 per person for SCHF members and $20 for nonmembers. Tickets go on sale Monday, April 13th and are available at the SCHF Business Office and Paper Plus.A Chocolate Affair is a new twist and addition to an enjoyable evening in Vicksburg. The many scrumptious chocolate desserts and assortment of drinks are being sponsored by The Liquor Store, Café Anchuca, Just Desserts, Main Street Market, and Ameristar Casino. The SCHF has partnered with local businesses and if you present your Chocolate Affair ticket the night of the event at either Monsour's at the Biscuit Company, Café Anchuca, Beechwood Restaurant and Toney's Restaurant, they will provide 10% off your dinner purchase.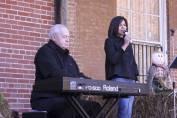 The auditorium will be transformed into a room of sophistication and charm by the local talents of Uptown Florists and Gifts.
"This unique fundraiser will be an extra avenue to increase funds for our many events and programs we conduct here at the Center and it will also assist with some extra maintenance issues that periodically occur," says Annette Kirklin, Executive Director of the SCHF. "It also is a pleasure working together and partnering with local businesses, it is what makes the community come together."
Space is limited and advanced ticket purchase is required. For more information or to purchase tickets, please call the SCHF office at 601-631-2997 or email info@southernculture.org.
---

The Southern Book Club meets the third Wednesday of each month.
There is no fee to attend and it is open to the public. The group focuses on Southern authors and subjects, but is open to any good read. Book and author suggestions are welcomed.
For May, the book club will discuss People of the Book by Geraldine Brooks.
The Southern Book Club will meet at 7:00 p.m. on Wednesday, May 20.
Please call the SCHF office at 601-631.2997 for meeting location or for more information.