---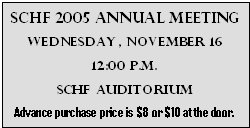 The 2005 Annual Meeting and Luncheon of the Southern Cultural Heritage Foundation will be held on November 16 at noon in the SCHF Auditorium.
This year's guest speaker will be Malcolm White, the newly appointed executive director of the Mississippi Arts Commission.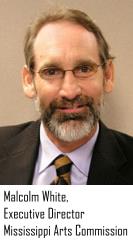 "Malcolm not only has a passion for all the arts, but for the state of Mississippi," said Commissioner and Search Committee Chairman Dianne Walton of Meridian. "He brings a zest and vitality that will keep the arts at the forefront of this state."
After taking the reigns of the Commission on Oct. 1, his first duties have been to oversee the Commission's role in assisting artists and arts organizations affected by Hurricane Katrina.
"Malcolm has a vision for helping us through this crisis after Hurricane Katrina to save our very fragile art world in south Mississippi, and he has a vision for the arts in all of Mississippi," said Commission Chairman and Search Committee member Melody Maxey of Jackson.
Since 1986, White has been co-owner of Hal & Mal's Restaurant, Jackson, with his brother Hal White and, since 1982, he has been owner/operator of Malcolm White Productions, Inc., Jackson.
White has been a member of the Mississippi Blues Commission since 1990 and is currently adviser for the Commission. He is executive director and adviser to the Mississippi Musicians Hall of Fame, Jackson; adviser, former talent buyer and adviser to the Elvis Presley Festival, Tupelo; Downtown Jackson Partners Board member; member and past chair of the Mississippi Telecommunications Conference and Training Commission; member of the Metro Convention Center Task Force; chair of the Tourism and Convention Committee of the Frank Melton Transition Team; and participant in the Mississippi Humanities Speakers Bureau.
He is founder and promoter of Mal's St. Paddy's Parade & Festival, Jackson. He is entertainment director and stage manager of Jubilee! JAM, Jackson; consultant and talent buyer of The International Red Beans and Rice Festival, Jackson; talent buyer and producer of the International Gumbo Cook-Off and Okra Festival, Jackson.
We are honored to welcome Mr. White to Vicksburg as our guest speaker for the 2005 Annual Meeting. The fee for the luncheon is $8 in advance or $10 at the door. For reservations, please call the SCHF office at 601-631-2997.
---
The Southern Book Club meets the third Wednesday of each month. There is no fee to attend and it is open to the public. The group focuses on Southern authors and subjects, but is open to any good read. Book and author suggestions are welcomed.
For November, the Southern Book Club will discuss The Last of the Southern Girls by Willie Morris at 7:00 p.m. on Wednesday, November 16.
Please call the SCHF office for meeting location or for more information.