---

Back by popular demand, the SCHF presents a cooking workshop led by Kristin Gluck of …By Request, Unique Pick-up Foods. The class, What to Eat During the Week, Simple and Tasty Meals Sure to Please, will be held in the SCHF Academy Building on Tuesday, November 6th from 10:00 a.m. to 11:30 a.m. and again in the evening from 5:00 p.m. to 6:30 p.m.
This class offers something for everyone. Quick mix and match items to accommodate your busy lifestyle. Good enough to serve any night of the week, healthy enough to eat every night of the week.
Gluck has offered seasonal cooking workshops over the course of the year at SCHF.
Reservations are required for the class. The fee for the class is $25 for SCHF members and $30 for non-members. Space is limited, so call today!
To register or for more information, please call the SCHF office at 601-631-2997.
---
Please make plans to attend the Southern Cultural Heritage Foundation's 2007 Annual Meeting and Luncheon on Wednesday, November 28 at noon in the SCHF Auditorium.
This year's guest speaker will be Melody Golding. Melody will present a slide show and lecture on her latest photography exhibit, Katrina: Mississippi Women Remember.
The meeting will also include a brief overview of the past year at SCHF and what to look forward to in the future. New board members and officers will also be elected.
The meeting is open to any SCHF member or to any guest interested in learning more about the Southern Cultural Heritage Foundation.
If you would like to volunteer to help with the annual meeting, please call the SCHF office at 601-631-2997.
---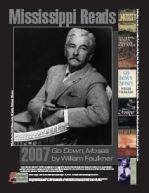 Mississippi Reads is a state wide project designed to encourage reading among all Mississippians by highlighting a Mississippi author each year. The Southern Book Club will join libraries, schools, and other book clubs in reading the first book for Mississippi Reads, Go Down Moses by William Faulkner.
Go Down Moses was originally published in 1942 and is made up of seven short stories following the history of the McCaslin family spanning over a century in the fictional Mississippi county Yoknapatawph.
Mississippi Reads is inspired by the popular One Book movement which attempts to connect people through literature. The book for 2008 is Richard Wright's Uncle Tom's Children to celebrate his centennial. Eudora Welty's Collected Stories is the book for 2009 in celebration of her centennial. For more information about Mississippi Reads visit the website www.mississippireads.org and make your plans to join with the SCHF in celebrating some of Mississippi's extraordinary writers.