---
The Southern Cultural Heritage Foundation will host two photography workshops by Camilla Calnan, Hand-Coloring Photographs, October 2 at 5:30 p.m., and Digital Camera How-To, October 3 at 5:30 p.m., both in the Academy Building. Calnan hosted two well-received photography workshops in 2003.
Hand-Coloring Photographs
In this two-hour class session on October 2 starting at 5:30 p.m., the instructor will share techniques for tinting photographs. The instructor will bring a hand-printed, black and white art print from her own collection for each student to work on. Students are encouraged to bring a photo (preferably black and white) that they would like to add color to (any finish will suffice). We will be working with Marshall Oils, watercolor pencils and pastels, and discussing different approaches to tinting and toning. Techniques for sealing and preserving tinted photos will also be discussed. The cost of the class is $20 per person.
Digital Camera How-To
In this two-hour class session on October 3 starting at 5:30 p.m., students will bring their own digital camera to learn how to take better pictures. They will photograph around the SCHC grounds and return to the classroom to discuss what was shot. The workshop's purpose is to help students to become more comfortable with their cameras and to learn about photographic and ascetic basics. All ages are encouraged to attend with any questions about digital photography. Each person needs to have a digital camera, and it would help to have its manual and its video cable (to play images on a TV). The cost of the class is $20 per person.
Camilla Calnan graduated in 1997 as salutatorian of St. Aloysius High School. She attended the University of Southern Mississippi for 2 ½ years, studying Literature and Photography, during which time Calnan worked at the Vicksburg Post as a photojournalism intern and later as a staff photographer. She then transferred to the University of North Carolina at Asheville and graduated through an independent degree program of Art Photography, Literature, and Photojournalism in May 2002. In Asheville, Cami has been building her photography business shooting weddings and portraits as well as selling fine art prints and teaching photographic workshops to share her 13 years of photo experience. Calnan works with images taken in Vicksburg and Asheville, exclusively. She sells work in Vicksburg at Art and Soul of the South and at the Cinnamon Tree, both on Washington Street.
---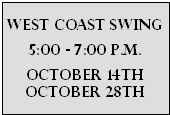 The SCHF offers monthly ballroom dance classes. James Frechette, owner of Applause Dance Factory in Ridgeland, teaches classes in ballroom, Latin, swing and many other styles of dance.
Class will meet Sundays, October are 14th and 28th from 5 - 7 p.m. in the academy building.
Both individuals and couples are welcomed. The fee is $20 per person for each two hour session. For more information, please call the SCHF office at 601-631-2997.